Thai Butternut VELOUTE: Vegan + gluten free!
15 Nov 2020
Sagara Vidya - Yoga School Brittany
Revenues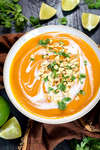 This soup is a delight of sweetness, and for all ayurvedic constitutions ! With obviously a... little fondness for Vatas !!! 
Ingredients
3 shallots, finely chopped
3 cloves of garlic, chopped
1 piece of ginger, about 1 cm long, peeled and grated
1/2 tsp. maple syrup (or agave/rice syrup/sugar)
1 teaspoon cumin
1 tsp ground coriander
2 tsp. green curry paste
1 small butternut squash (~800 g) peeled and cut into pieces
1 can of coconut milk
1/2 litre of vegetable stock
1 handful of rinsed coral lenses
The juice of 1 lime
some fresh coriander leaves
some crushed peanuts
Instructions
1 In a stewpot brown the shallots in a drizzle of olive oil for 3-5 minutes. Once they start to brown, add the ginger and garlic. Fry for 1 minute and add the cumin, ground coriander, curry paste, a few turns of the pepper mill, a good pinch of salt and the pieces of squash. Leave to fry over a low heat for 5 minutes.
2 Add the coconut milk, lentils and vegetable stock. Bring to a boil, then lower the heat and simmer for about 15 minutes or until the lentils and squash are tender.
3 Add the lemon juice and using a hand blender or a blender, blend the velouté until smooth. If the velouté is a little too thick, add a little water.
4 Adjust the seasoning and garnish with fresh cilantro and peanuts before serving.
Enjoy and take care of your precious indoor winter!
Anandi-Audrey Fiorini