5 Days of fasting ... or 7!
02 May 2020
Audrey Fiorini
Revenues

Fasting, diets or food raids, are means of prevention and purification that allow the body to get rid of its accumulated toxins, in order to regain great vitality and regenerate the body and mind.
They have been practiced for millennia by yogis!
But before living the Adventure, it is important to be well prepared. Here are a few recommendations:
A food descent is an opportunity to open a new relationship to the body, to the mind, becoming aware of all the inputs and how they come to stabilize us. 
This is the opportunity for a new energy autonomy, towards the Way of Satvika.
We will receive the physical benefits: skin, eyes, teeth, vitality, lightness.
It helps to adopt healthy eating, behavioural and lifestyle habits.
For a fast, the food descent is gentler than for a purge, which must then be very precise, adapted and well followed.
The 2 or 3 days before fasting, remove from your diet the strongest toxic foods such as coffee, sugars, alcohol and reduce your intake of animal proteins. 

In this fast, I offer you one Juice per day, which you will discover in this blog.
The rest of the day, just keep going:
hydrate yourself
practice one session of gentle yoga a day with us online
take a leisurely stroll in beautiful nature with someone you love...
state your clear intention, as to the benefits and what you have decided to fast for.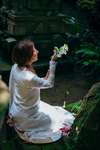 In the Yogic tradition, fasting is Upavāsa , the way to get closer to the Divine: Ishwara.
He offers Tapasya, the asceticism that purifies and clarifies the mental tool, the psyche and the physical body.
Offer your fast to Ishwara, so that you may be preserved from any excess of glory or blame and gain the wisdom that already resides in you: Buddhi.
I love you guys. Om 
Anandi
The water you drink will always be good, all day, every day. You can also add a little lemon or lime to your water or infuse a pitcher of water with slices of cucumber or orange. 
Vegetable broths will be made with very fresh and organic vegetables, 4 to 5 vegetables: carrots, leeks, chard, parsley, thyme, rosemary, turnip, celery, fennel ... what inspires you, but never potatoes!
Simmer, covered, for about 1 hour. Let cool for about 30 minutes. Strain the stock through a colander, make a good soup for your children with the vegetables!
Herbal teas: choose flower, calendula, peony, rose, herbal teas such as thyme, rosemary according to their properties and what you need. 
Make sure you stay hydrated throughout the day, giving preference to water.
NICE ADVENTURE FOR YOU!
If you wish to be accompanied, contact us, we will work out a tailor-made programme together, just for you!
OM