CONTRIBUTING TO THE WORLD THROUGH "YOGA & VEDANTA"
31 Jan 2021
Audrey Fiorini
Training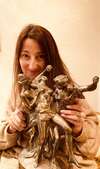 Life, the Earth is calling us, it needs our strength and determination ... or just to be loved !!!
May we hear him sing!
May we answer him, now .... With our body, mind and soul...
We are this little piece of land, that we imprint on it, the time of Life, the time of incarnation, and that we give back to it. "We are born to die", Swami Vagishananda.
When we are here Here and Now, we create change that can be great.
Let us honour the Divine, let us honour each other and this planet, for everything is ephemeral: Atma alone is Eternal, free of time!

We need YOU ! The world needs us ! (if you haven't already heard it roar)!!
"SAMA YOGA & VEDANTA": 200H is here to catalyze that in you.
Become a sensitive, caring and EMMANAGING artist who feels the recklessness and full CONFIDENCE in life... if you feel that it is time for you to be the MEDICINE this world needs today, to cross and dive into your own HEALING OF THE EYES, then this training is for you!
This training will awaken your ANCHORAGE, validate your SIDDHI (potentials), increase your FREQUENCY, amplify your clairvoyance, strengthen your BODY, and teach you to develop a PASSION for SELF-KNOWLEDGE.
These practices are made so that everyone RISES", RESPONSIBLE for himself and CONTRIBUTOR FOR THE WORLD! Come and join this ship!
Be the "Medicine" that the world needs today!!!!

"SAMA YOGA & VEDANTA" : 200H CERTIFICATION OFFERS YOU THIS DIVE ! This training is for all those who seek to strongly magnify their compassionate, creative and PAISIBLE HEART in this WORLD and to transmit it by becoming a CERTIFIED TEACHER.