YOGA SCHOOL RETURN - September 14th!
31 Aug 2020
Audrey Fiorini
News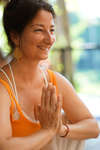 WHAT A JOY TO BE ALL TOGETHER!
You are choosing a more supple and peaceful body, a joyful life, to put Health, Peace, back at the center of your Life?

We are here for you every day, through Sama Yoga, Meditation, Kundalini Tantra ... who teach you the wisdom of the Yoga Art of Living: with Heart, Depth, Poetry and Humour!

More and more of you are making this choice every year.
The place is exceptional: a 180° on the Ocean and the island of Groix! A gift ...
We therefore invite you to register now by downloading the registration form (online or by mail) in order to guarantee your schedule!

FREE TRIALS - BOOK YOUR SLOTS!