29 Nov 2019
Sagara Vidya - Yoga School Brittany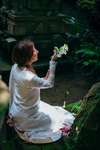 "What is this feeling of Grace? Daivam?
We all suspect the state of truce, the one that suspends you bea. It happens during a walk, an embrace, a moonrise, a caramel melting on the tongue, an orgasm, a child laughing 
‍♀️
Do we still have to use these conditions? Or is Daivam available Right now, right now? 
What is the path that allows it, the button! The notice????
Meeting on November 29th, for answers, at the Light of Vedanta